RETURN TO THE RIVERS. Radical Impressionist: A Mathematician Paints
---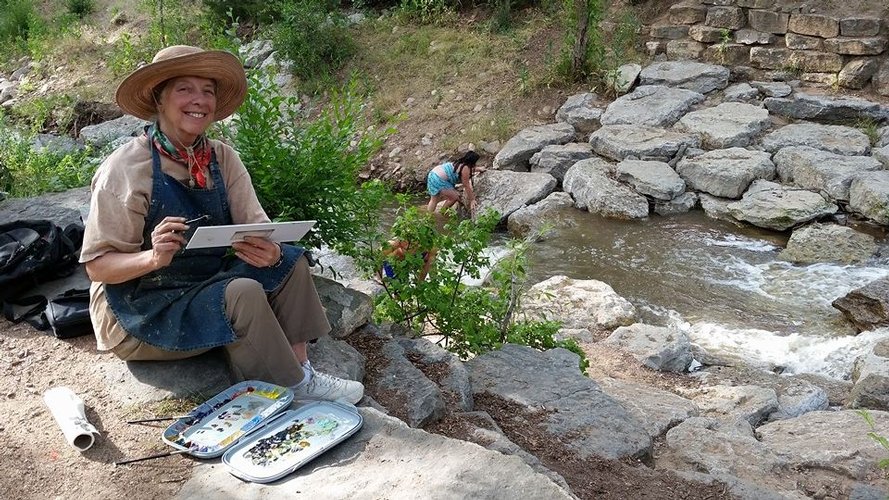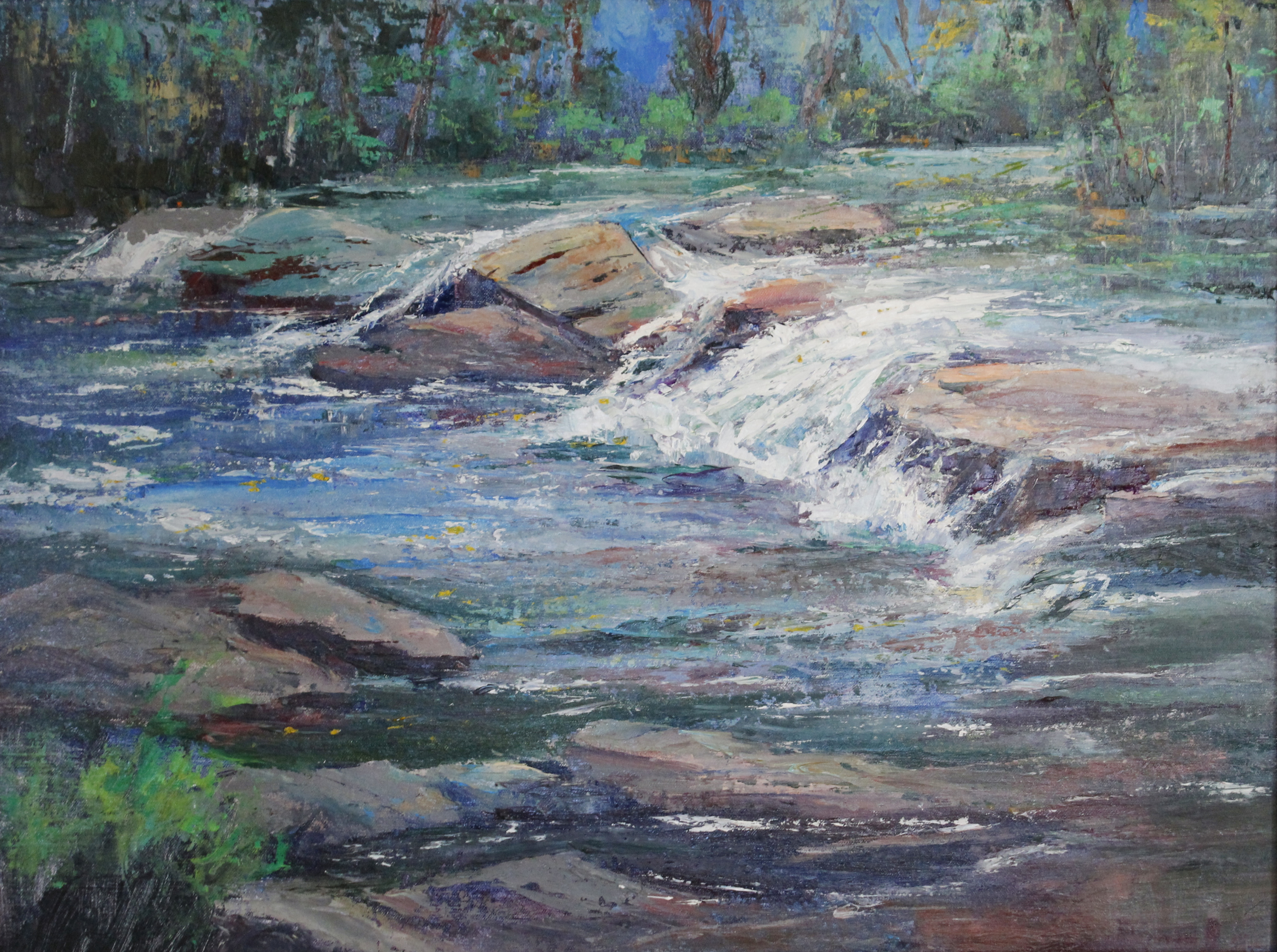 "Karen Halbert, a former computer scientist and college professor of mathematics, transforms the beauty and patterns she sees in the numerical universe into the natural world of her paintings. Dynamic symmetry contributes to the underlying harmony of her pictures. Halbert spent her childhood in the American west and, following in the footsteps of many artists, returned to her roots to capture on canvas the particular quality of the Southwest. Though it is in Santa Fe that Karen has found her true home, she can be seen painting en plein-air in the fields throughout New Mexico as well as in locations such as the Grand Canyon, the Pacific coast of California and on the beaches of Hawaii. In her studio Halbert uses sketches and photographs from her plein-air work to create images full of the emotions she feels while working out-of-doors.
"Karen Halbert works in a tradition which springs from the French Barbizon School. As pre-cursors to Impressionism, French Barbizon painters had moved from the city of Paris to the countryside and were painting in situ and directly from nature for the first time in art history. Their studio was the Forest of Fontainebleau, a former hunting park of French kings, which Louis IX referred to as "his wilderness." Here in New Mexico the arts of both traditional Pueblo and Hispanic communities are rooted in the belief that landscape is sacred. In her series of pictures, Return to the Rivers, Halbert embodies an identification with the land as a creative font that goes back centuries in this State, but that is also a universal theme. The title of her series is a reference to the mystical holy rivers of the Himalayas, where celebrated philosopher, humanitarian, author, chef and friend, Vikas Khanna, grew up. While pouring over one of Khanna's books late into the night, Karen Halbert recognized that returning to the rivers of New Mexico, where she has always re-connected with a profound inner peace and joy, had been the core reality driving her art. Painting in plein air, always close to the rivers she loves, Karen Halbert creates her own authentic art; an art that is an experience, not an object, out of a fully realized sense of place She likes to quote Vikas Khanna, 'May your pilgrimage begin with the rivers.'
"Karen Halbert is active in Plein Air Painters of New Mexico, serving as volunteer website administrator (www.papnm.org) and, as a way of giving back to the artist community, she volunteers painting classes and tutorials, combining her background in teaching with her extensive knowledge of the tools of Classical and Impressionist art. Halbert is indebted to mentors Albert Handell, Bill Gallen, Doug Higgins, Roger Williams and others in Santa Fe."
Author: Janice Jada Griffin, Art Director of the Marigold Arts Gallery.
-----------
The river has always intrigued Karen Halbert. In her youth she spent much leisure time camping out by the river. She feels most comfortable within sight of waters: the Columbia and Hudson Rivers, as well as the Pacific and the Atlantic oceans. Now in New Mexico, Karen can be found painting "en plein-air" at the Chama, Rio Grande, Santa Fe and other rivers and waterways, hoping to recreate the magical moments of youth that they inspire. Also, Karen enjoys painting the canyons, gorges and cliffs of New Mexico.
Karen won an award of merit from the Plein Air Artists of Colorado at its 2016 annual members' show in Boulder, Colorado for the plein air painting, "Santa Fe River Turbulence" now residing at my son and family's house in San Diego "Rushing Santa Fe River", 18x24, oil, at the top of the page, was sold recently..

More recently Karen won another award, this time an Honorable Mention award from the Plein Air Painters of New Mexico for her work, "Blowin' in the Wind", 8x10, oil. The painting was exhibited at the Wilder Nightingale Gallery, for the Taos Plein Air event in 2020.
Karen is represented by the Marigold Arts Gallery on Canyon Road in Santa Fe.

Email: karen.halbert@gmail.com
Web site: www.karenhalbert.com
FAVORITE LINKS INCLUDE:
www.marigoldarts.com MARIGOLD Arts Gallery on Canyon Road
www.purplesagegallery.biz Purple Sage Gallery (unfortunately, now closed)
www.karenhalbert.blogspot.com Karen's Blog with the story of these river paintings as well as posts on Mathematics in Art.

www.facebook.com/karen.halbert.92 Karen's Facebook Page
www.papnm.org Plein Air Painters of New Mexico

www.loisgriffel.com Lois Griffel
www.alberthandell.com Albert Handell
www.billgallen.com Bill Gallen
www.dhfa.net Doug Higgins
www.rogerwilliamsart.com Roger Williams
www.judyhowells.com Judy Howells